David Slater
David P. Slater, Esq.
Attorneys in Firm – 1
I am an attorney licensed in Florida & NY, State and Federal Courts concentrating in litigation. My main office is located in Boca Raton, Florida and have a Brooklyn N.Y. office. I am a licensed realtor, continuing education lecturer, arbitrator with FINRA , former Traffic Court Hearing Officer and a member of various bar associations. I pride myself in providing personal attention to my clients. I look forward to assisting you in resolving your legal matters.
Read more
(561) 998-9401
(561) 414-7145

secondary
5154 Windsor Parke Dr.
Boca Raton
FL 33496

View map
Web
http://www.bocadelraylawyer.com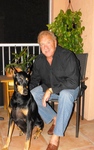 Areas of Practice
Admiralty Law

Business Law

Credit, Debt and Collections Law

Family Law, Divorce & Custody

General Civil Litigation

Insurance Law

Landlord & Tenants

Personal Injury Law and Tort Law

Probate, Trusts, Wills & Estates

Products Liability

Real Estate and Real Property