Jeffrey Cogan
Jeffrey A. Cogan, Esq., Ltd.
Attorneys in Firm – 1
I am CV Rated by Martindale-Hubble which puts me in the top third of all attorneys practicing. I charge a flat fee for most litigation so you know up front how much the case will cost you. I give individual service with 15 years of practicing law rather than give you an associate who may be fresh out of law school.
Read more
6900 Westcliff Drive, Suite 602
Las Vegas
NV 89145

View map
Web
http://www.jeffreycogan.com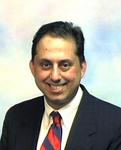 Areas of Practice
Family Law, Divorce & Custody
States of Practice
Countries of Practice