Sanford M. Martin
Sanford M. Martin, P.A.
Attorneys in Firm – 3
The Law Office of Sanford Martin, PA, has been serving the legal needs of its clients for more than 30 years. Licensed to practice law in three states and admitted to Federal Courts, we have served clients in many specialized legal areas including: Civil Trial, Family Law, Probate, Estates and Trusts, Tax Law, Personal Injury, Real Estate, Bankruptcy, Business and Corporate Law, Elder Law, and Environmental Law. Representing a client in today's legal system requires knowledge, experience, and tenacity. Each client has different needs and each case requires individual attention focused on a successful outcome. We provide free consultation, by telephone or office appointment. Discuss your case with us.
Read more
P.O. Box 110554
Naples
FL 34108-0110

View map
Web
www.smartinesquire.com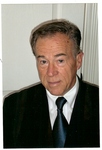 Areas of Practice
Bankruptcy Law

Elder Law

Probate, Trusts, Wills & Estates

Tax and Taxation Law
States of Practice
Countries of Practice