Robert Davies
The Davies Law Firm, P.A.
Attorneys in Firm – 1
Since 1983, Robert Davies has provided caring and responsive representation to clients and their children in the divorce process. He has the experience to effectively handle complex legal challenges, and is dedicated to protecting his client's rights. Mr. Davies handles a variety of legal issues, including: divorce, custody litigation, paternity and support, equitable distribution of assets, interference with child custody, harassment, expungement, contempt of domestic violence restraining orders and municipal court matters. He has tried and won domestic violence cases, on behalf of both men and women. Mr. Davies is rated "BV" by the Martindale Hubbell Peer Review, indicating 'Very High' standards of conduct and ethics, reliability, diligence and other criteria relevant to the discharge of professional responsibilities, and "High to Very High" legal ability. Mr. Davies graduated in 1983 from American University School of Law, where he was appointed a Dean's Fellow. Mr. Davies clerked for The Honorable Thomas S. O'Brien, Judge of the Appellate Division of the Superior Court of New Jersey. Mr. Davies is the Attorney for the Zoning Board of Adjustment of the Borough of Franklin Lakes, Bergen County, New Jersey.
Read more
45 Essex Street, Suite 3 West
Hackensack
07601

View map
Web
http://www.attorneyrobertdavies.com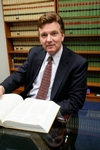 Areas of Practice
Family Law, Divorce & Custody
States of Practice
Countries of Practice